CLEANING VALIDATION SOFTWARE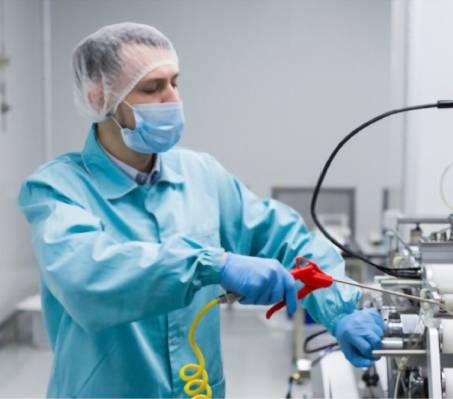 THE INDUSTRY'S FIRST CHOICE FOR AUTOMATED CLEANING VALIDATION AND RISK MANAGEMENT
From both a regulatory and industry perspective, cleaning validation is recognized as being critical for patient safety and product quality because it guarantees that product contamination is effectively controlled. Manual methods for managing the cleaning process on a pharmaceutical manufacturing line are time-consuming, prone to human error, and may leave manufacturers exposed to regulatory risks.
Nova-Cleaning Validation is a revolutionary software module that speeds up the cleaning validation process, produces more accurate results, and reduces the risk of non-compliance.
UNIQUE AND INNOVATIVE
FEATURES
Computerized risk-based worst case evaluation. Risk factors, including dosage, toxicity, cleanability, solubility and more, can be defined together or separately, allowing the user to have complete control over the evaluation settings. The worst case is determined and displayed for all validation groups, enabling users to focus on the biggest risk to product quality. The worst case assessment is automatically triggered when any validation group property is changed.
Carryover limits are calculated for all sample points for APIs, cleaning agents, and microbial testing. Hundreds of MAC formulas are executed in seconds, rather than hours. The calculation take into account all possible product A and product B combinations fot the affected equipment trains and validation groups, and the lowest MAC values are highlighted, making user review of the calculated values quick and easy.
Consolidates the impact of multiple changed in one snapshot of the risks and consequences of potential changes to any factor that may affect the validated state of the cleaning process. These factor include changing equipment, introducing new products, modifying batch sizes, and anything else that relates to both the product and equipment families that are part of equipment trains and validation groups.
ACHIEVE COMPLETE CONTAMINATION CONTROL WITH THE COMBINATION OF NOVA-CLEANING VALIDATION & NOVATEK ENVIRONMENTAL MONITORING
ACHIEVE COMPLIANCE AND PREVENT REGULATORY ISSUES
Nova-Cleaning Validation significantly enhances product integrity by managing changes and assessing the risks associated with cross-contamination and product impurities within a dynamic production environment.
All changes to methods, APIs, products, equipment, and family groups are automatically evaluated to ensure product integrity and regulatory compliance.
Nova-Cleaning Validation complies with 21 CFR Part 11 and EU Annex 11. The module uses a risk-based approach and is designed based on PDA Technical Reports 29 and 49, ISPE MaPP, 21 CFR Part 211.67, Validation of Cleaning Processes (7/93) and EU Annex 15.
BENEFITS THAT

SAVE YOUR TIME


AND

MONEY
REDUCED COSTS
The ROI for implementing an automated cleaning validation system of almost immediate, with significant savings in time and resources compared to a manual process. By automation worst case determinations and thousands of MAC calculations, hours of work are accomplished in minutes.
REDUCE ERRORS
Nova-Cleaning Validation is a paperless system that reduces human error. Data errors in entries or calculations could result in the loss of millions of dollars in contaminated product.
DATA INTEGRITY
21 CFR Part 11 compliant, Nova-Cleaning Validation provides data security and compliance as well as automating system evaluations and calculations. Regulatory auditors will be able to clearly see that the process is in a state of control.
TRANSPARENCY
Electronic management and approval of master data ensures that information is shared efficiently. All data related to equipment, analytical methods, and validation groups are available to all stakeholders, providing transparency across functional groups.
STREMLINED MANAGEMENT
Relational validation group creation for single or multiple equipment trains benefits the user by making the definition of product and equipment families easy to create and simple to manage.
SYSTEM DEFINED PROTOCOLS
Sampling plans are automatically generated for validation groups based on the defined sample points, analytical methods, and MAC limits. User can schedule validation or monitoring event based on the approved protocols.
DATA & ANALYTICS
Holistic reporting enables users to retrieve any data in a few clicks with a variety of in-depth standard reports. Trending and statistical analysis includes capability indices, regression, scatter plot, and other graph types.
HIGH-LEVEL PROCESS WORK FLOW
Product Families
Equipment Families
Validation Groupings
Properly Modification
Worst Case Evaluation
MAC Calculations
Sampling Protocols
Scheduling Testing
Reporting Trending